In stock team
uniforms
Sportira's in-stock team uniforms come in 18 colors. The kit includes a sports jersey, shorts and a pair of socks. They are ideal for for soccer, flag football, volleyball, dek hockey and more.
Quick turn-around time
Find out more
In-stock team uniforms
Sportira's top selling kit includes a JERSEY-SHORT-SOCK and is always in stock for a faster turnaround time. This multisport kit can be used for soccer, flag football, ball hockey, social or corporate teams and more. This kit is available in 18 popular colors in youth and adult sizes.
Kit
Includes
Jerseys, shorts, socks and player numbers.
7
Logos &
Numbers
Embellish uniforms with your logos and player numbers.
18 colors
available
Choose from our 18 most popular colors.
Youth &
Adult Sizes
Youth extra small to extra large.
Adult small to double extra large.
Add logos and numbers to your team uniforms
Add logos and numbers to your team uniforms
Learn more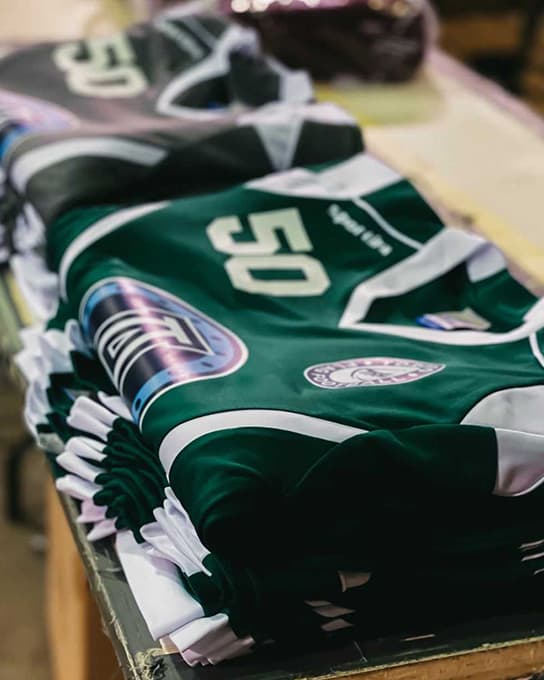 Your order is packed by team for easy distribution
Sportira is proud to service the team uniform needs of sports leagues, clubs and associations comprising dozens of teams. Our attention to detail, packing by team, and timely shipping options makes it easy to manage your team uniform needs.
Learn more
Get a free quote
Send us your information and let's get started
What is the turnaround time?
Kits with no printing or numbers only leave our shop within days.
Logo printing takes 2-3 weeks.
*Special timelines for House League orders.
What can I customize?
On all our stock collections you can embellish your uniforms with heat transferred player numbers, team logo and sponsors.
Can I buy these items separately?
YES, all kit items (jersey, short, socks) can be sold individually and mix and match sizing.
Is there volume pricing?
YES, please contact a Sportira representative for volume pricing at info@sportira.com